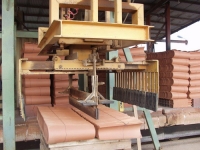 The Roof Tiles Industry Kon. A. Tzavaras started its activities in the field of ceramics in 1962. The production and management located in a private area of 40,000 sq.m. in Vasiliko - Chalkida - Evia.
Today, Roof Tiles Industry Kon. A. Tzavara is a large, modern and contemporary roof tile industry. The Byzantine roof tiles which generates maintain a classic but always timely and timeless look.
more
Byzantine Roof Tiles: Know Their Advantages
The Byzantine tiles retain a classic but always timely and timeless look. Some of the advantages are:
Classic and timeless look.
Resistance to harsh weather conditions.
Impermeable to moisture.
80% handmade

Easy to place
Ideal for places without much inclination
Ideal for special structures (domes)
Greek product with worldwide exports
Additionally our products meet all dimensions and specifications for all services such as Archeology and others
Major projects of great cultural significance are using the roof tiles products of K.A Tzavaras.
ZAPEION
NATIONAL THEATRE
ATHENS MUNICIPALITY CULTURAL CENTER
NATIONAL TECHNICAL UNIVERSITY OF ATHENS
RED HOUSE MUSEUM (Chalkida)
HATZIKYRIAKIO PIRAEUS FOUNDATION
ASTERAS VOULIAGMENIS (AKTOR ATE DECORATIVE BRICKS)
more
The Roof Tile industry K. A. Tzavaras is located in a privately-owned space of 40.000 s.m. at the at the region of Vasiliko Chalkida.
12km of the National road
Chalkida - Eretria.
34002 Evia
Tel: +30 22210 55333
+30 22210 52568
Fax: +30 22210 51118
Email: info@tzavaras.gr
more